Track your progress and climb the leaderboard
When performance is measured, performance improves. When performance is measured and reported, the rate of improvement accelerates.

But the problem with tournaments is that only the winners are reported and rewarded. But winning is not just standing on the podium. Winning is making progress. Everytime you move in the direction you choose, you are winning. This is why PlayBaddy keeps track of your performance everytime you play and measures your progress in real time.

What's more, you can go back in time and check your scores against every opponent you played. With PlayBaddy, winning and record keeping is for everyone. Not just for world champions.
Compete against yourself and win as you progress. After all, winning is not a race. It is a habit.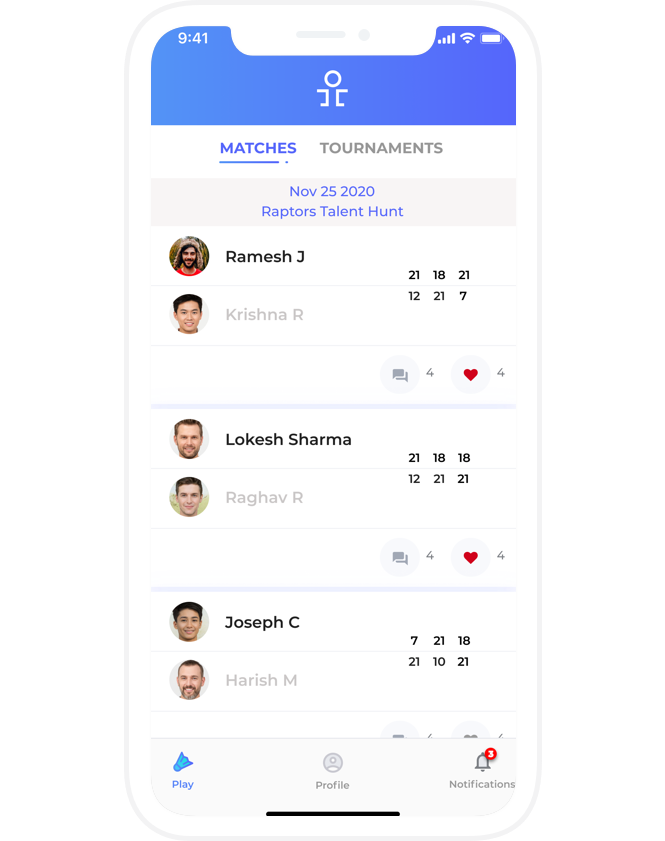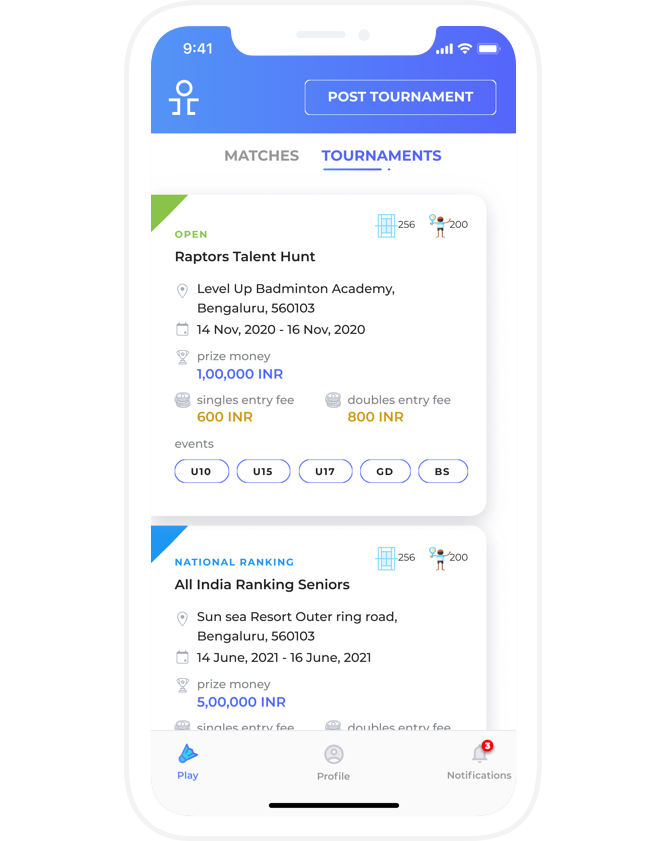 Why do I need to use PlayBaddy?
To be honest, you don't need to use PlayBaddy to track your matches. You can use whatever you are currently using - Paper, Excel, Google Sheets, or even Tournament Software. What's more, you don't even need to track! They all work. But so do flip phones, dial-up modems and MP3 players. The reason you no longer use them is because there is something better.

PlayBaddy is that better way for measuring your progress and having more fun when you play. With PlayBaddy you can,
Track your performance
Accumulate points and coins to earn exciting rewards
Compete to climb the Leaderboard & win virtual prizes
Once you use PlayBaddy, playing Badminton will never feel the same again.
Play. Win. Celebrate.

Track Scores
Keep track of every match and tournament you have played in and every opponent you have played against. PlayBaddy will show you advanced analytics including win streaks, and H2H results.

Measure Progress
Check your standing in leaderboards across age categories. Every time you win, you earn points and climb the leaderboard. Toppers win cash prizes, sports equipment and fun virtual rewards.

Win and Earn Rewards
Losing doesn't mean the end of the world. Nor does Winning. What is most important is consistency. With PlayBaddy, everytime you play, you accumulate points and earn coins regardless of winning or losing. It's the progress that counts.